Sandvik JM1208 Jaw Crusher Spare Parts Jaw Plate
Glad to share our recently produced manganese steel Sandvik JM1208 jaw crusher
spare parts jaw plate.
Sandvik is an engineering group in mining and rock excavation, metal-cutting and materials
technology. Sandvik Mining supplies a comprehensive range of equipment,tools,services
and solutions that help the global mining industry excavate,transport and process ore,
safely and productively.They also supply key components for quarrying,crushing,screening,
demolition, recycling and civil engineering.
Echo Machinery supports original jaw plate like 400.1101-001,400.0420.001, 400.0425.001,
400.2266.001... for Sandvik CJ211,CJ411,CJ412,CJ612,CJ613, CJ615,CJ815,JM806,
JM907,JM1107,JM1108,JM1206,JM1208,JM1211,JM1312,JM1511,JM1513...etc models
with 13%Mn,14%Mn,18%Mn,22%Mn, 24%Mn manganese materials.
We support jaw plates with standard teeth,coarse corrugated teeth,quarry teeth, heavy duty
teeth,super teeth etc jaw profiles for crushing rock,granite,igneous rock,feldspar etc raw materials.
Our Finished Manganese Steel Sandvik JM1208 Jaw Plates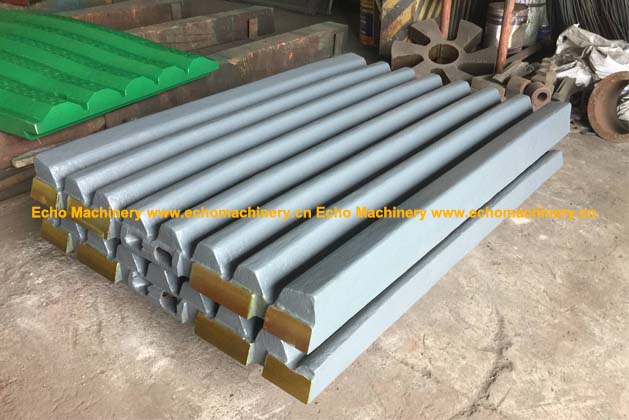 For more information about our products,please contact us today! info@echomachinery.cn
All brand names, model names or marks are owned by their respective manufacturers. Echo Machinery has no affiliation with the original equipment manufacturer. These terms are used for identification purposes only and are not intended to indicate affiliation with or approval by the OEM. All parts are manufactured by, for and warranted by Echo Machinery and are not manufactured by, purchased from or warranted by the original equipment manufacturer.