Conveyor belts--Echo Machinery
Echo Machinery produces high quality rubble conveyor belts, offers complete solutions
in the quarry,mining,cement aggregate,recycling and shredding fields.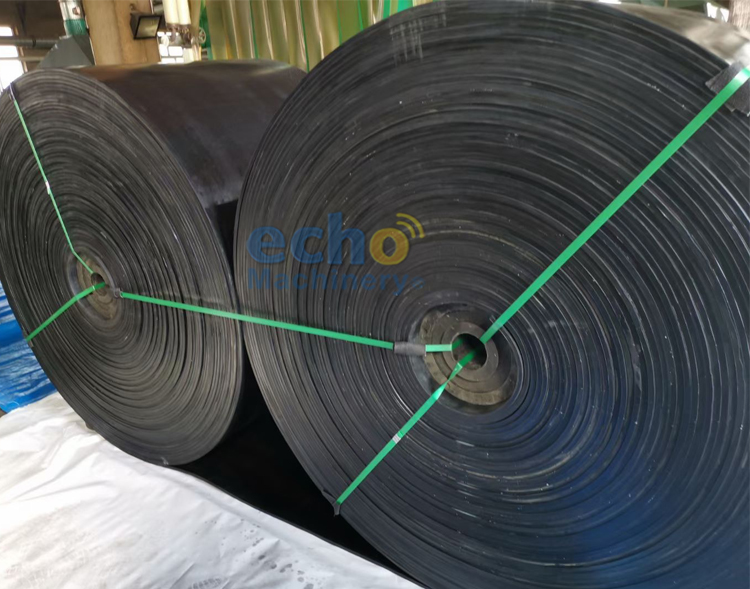 The different solutions are used in production and transport processes in every industry.
The belt consists of one or more layers of material.
It is common for belts to have three layers: a top cover, a carcass and a bottom cover.
Echo Machinery produces high durable EP conveyor belt.
The EP conveyor belt has the characteristics of thin belt, high strength, impact resistance,
good groove formation, large interlayer adhesion, excellent flexibility and long service life.
It is suitable for medium and long distances and high It is widely used in mining, metallurgy,
construction, port and other sectors.
Specifications and technical parameters of nylon multi-layer fabric core conveyor belt
The performance of the covering layer of the tape is graded according to the table
Our conveyor belt supports Rubber,Polyester,Nylon,EP,NN,CC,TC.etc material.
We can design the drawings for you if you provide with us the belt width,length,layers and thickness.
Below is a video link of our conveyor belt--Echo Machinery
If you are looking for conveyor belt,contact us now!
All brand names,model names or marks are owned by their respective manufacturers.Echo Machinery has no
affiliation with the original equipment manufacturer.These terms are used for identification purposes only and
are not intended to indicate affiliation with or approval by the OEM.All parts are manufactured by,for and warranted
by Echo Machinery and are not manufactured by,purchased from or warranted by the original equipment manufacturer.